The trip to Finland brought the success that were hoping to get as Isaac Williams could land a contract to play for FoKoPo in the upcoming season.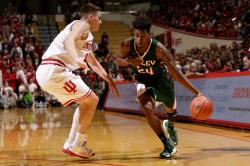 Isaac Williams is a 6'4 Shooting Guard, who graduated from Mississippi Valley State and he couldn't land a job for the 2017-2018 season. Even though he finished his senior season with 13.7ppg and 3.6rpg no satisfying deal was offered to him. After joining Heinrich Sports, the chance of a promotion tour in Finland opened up for Isaac and he used the chance and convinced the staff of FoKoPo. After numerous work-outs with the team all sides agreed on terms and Isaac penned a deal to play in the First Division in Finland for the upcoming season.

FoKoPo finished the last season on the 11th position and they will aim for more during this season and we are extremely excited that already in game 1 he will face Dedrick Basile and his team of Oulun NMKY.
« back