Swedish PG joins Heinrich Sports
Heinrich Sports is delighted to announce that Swedish PG Stefan Zivkovic has joined the agency for future representation.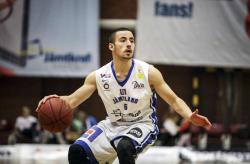 The 23 year old Guard Stefan Zivkovic started his career in Sweden playing for Jämtland in Sweden. Besides being on the roster of the first team Stefan gaines vital experience playing in the 2nd league fort he farm-team of KFUM Jämtland. The left-handed Guard could get a lot of experience and he became a key-player and distributor. Zivkovic started this season at Helsingbork BBK and after 12 games (12.7ppg, 5.0rpg, 3.0apg and 1.8) he decided to move abroad and he gained his first experience playing in Italy for Basket Sarno. Over a course of 15 games he recorded 12.4ppg and unfortunately no other stats areofficially collected in this league.

We want to welcome Stefan at Heinrich Sports and we are looking forward to successfully future.
« back