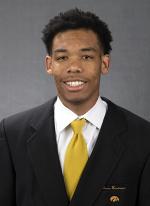 Position:
1/2 (PG/SG)
Height:
198 cm (6′6)
Weight:
89 kg (196 lbs)
Age:
24 (13. August 1996)
Nationality:
USA
Contract:
NO
Current / Last club:
BBC Telstar (LUX)
Christian is a versatile player who has experience playing 1-4. He excels at the point guard position, where he is a threat whether he is attacking the basket or making plays for his teammates. His quickness, length, and ball handling ability allow him to get into the paint and wreak havoc on defenses. He has great size which for a guard which he can use to post up smaller defenders. His midrange game is outstanding, especially off the dribble. He also can knock down open threes.
On defense, he is a matchup problem for opposing teams. His size and athleticism allow him to switch on any ball screen. He can play different styles of defense, i.e. pressure on-the-ball and denial defense or open stance. Even though he mainly played guard in college, he was one of the better rebounders on his team. His versatility on defense is an asset.
MVC All-Defensive Team 2020
NIT Sweet 16 2017