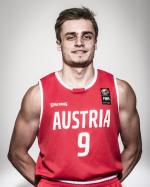 Position:
1 (PG)
Height:
171 cm (5′7)
Weight:
70 kg (154 lbs)
Age:
19 (17. January 2000)
Nationality:
AUT
National Team member:
YES
Contract:
NO
Current / Last club:
Mistelbach Mustangs (AUT)
Paul has a very quick first step which he uses to beat defenders off the dribble. Despite his small stature he can get into the paint and finish against bigger defenders. Even though he is left handed, he has shown that he can finish going to his right as well.
He is very difficult to guard in ball screen situations. Paul puts a lot of pressure on over-aggressive ball screen defense, using splits and hesitation moves to beat defenders to the paint.
He has a quick release on his jump shot. He uses an effective step back move to create space against bigger defenders and he prefers taking pullup jump shots from ball screen or transition situations.
He looks to push the ball in transition. He continually puts pressure on defenses by attacking in early transition situations and he′s not shy about challenging defenses in transition.
Paul likes to drive baseline and make plays for his teammates. He has a good understanding of when to attack and when to find the open player.
Defensively, he puts a lot of pressure on the ball. He is always ready to deny in the full court after a made basket. He plays defense with lots of energy. He is willing to dive on the court for loose balls and won′t hesitate to put his body in harms way.
Second in the EC in Points per game
Fourth in the EC in Assists per game
Third in the EC in Steals per game
Sixth in the EC in Free Throw Percentage
Austrian 2.Bundesliga Quarterfinals 2019
All-EC U18 Division B Honorable Mention 2018
Austrian 2.Bundesliga Semifinals 2018
Austrian 2.Bundesliga Regular Season Runner-Up 2018
European Championship 2018 Highlights
2018: Austria vs Hungary (U18) 63:61
2018: Austria vs Georgia (U18) 88:76
2018-2019: Mistelbach Mustangs vs Basket Flames 96:72