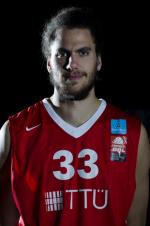 Position:
5/4 (C/PF)
Height:
210 cm (6′11)
Weight:
100 kg (220 lbs)
Age:
26 (10. March 1993)
Nationality:
SRB
Contract:
NO
Current / Last club:
OKK Novi Pazar (SRB)
Nikola is a very mobile Insideplayer that runs the floor very well and he can be used on the Power Forward and Center position. On the offensive end he is capable of attacking slower defenders off the dribble, but he can also post up and finish with one of his post moves. In Pick & Roll situations Nikola rolls very well, but he can also step out and be a treat as a spot-up shooter from midrange or 3 point distance. Defensively Nikola shows great footwork which allows him to stay in front of Guards but he is also capable of stopping Insideplayers in the low post. He has a very nice instinct for rebounds on both ends of the court and he is a very good Free Throw shooter for an Inside player.
2017-2018 Highlights
2017-2018 Ukraine I
2017-2018 Ukraine II
2017-2018 Ukraine III
2017-2018 Ukraine IV