We are really delighted that the American Insideplayer Henry Pwono decided to join Heinrich Sports for his future representation.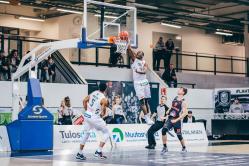 The 27-year-old Henry Pwono played successful College basketball at East Central University as he finished his senior season with 14.8ppg, 8.3rpg and 1.8apg. After that he started his pro career in Finland and after a season in Italy Henry returned to Finland playing for Lahti Basketball. At the end of the 2017-2018 season in Finland he moved to Saudi Arabia to finish the season with Al Ittihad Jeddah.
For the current season the 6'7 Insideplayer returned to Finland and to the team of Lahti Basketball in the First Division in Finland. At the moment Lahti is ranked first in the league with a 19-1 record. Pwono is one of the key players as he averages 18.4 Points, 7.6 Rebounds, 2.4 Assists, 1.5 Steals and almost 1 Block per game. The former Import Player of the Year is shooting 60.6 % from 2-point range and 48.1% from 3-point distance.
The aim of the team is clearly to win the league and get promoted to the Finish Korisliiga.
« back